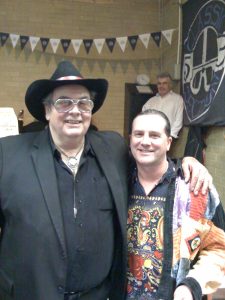 With seven graduates integrated into the IT department I was free to move on to other things, but first I had to persuade the new management team that "The Training Guy" could do more than just teach…
As the graduate training programme came to an end in the autumn of 2008, and the new management regime established itself, I was almost in limbo. I was known by the new CIO and his team as the training guy, though there was no immediate need for further training courses. I did a few strategic things, such as mapping out how we could progress our development skillsets from legacy to Java, but these were largely ignored. I also got involved with Microfocus, partly because they were interested in my COBOL training programme and the future of the language, but also because the 50th anniversary of COBOL was imminent. They made a video of me in action at the fashion retailer, and I was also interviewed by The Guardian and The New York Times for an article that was syndicated into many other publications.
You can watch the video here…
https://www.youtube.com/watch?v=mUrdX9xJx58
You can read the articles here…
http://www.nytimes.com/external/idg/2008/10/23/23idg-Looking-for-job.html?
http://www.guardian.co.uk/technology/2009/apr/09/cobol-internet-programming
This was all high profile stuff, but not really productive, and then an opportunity arose that would shape my future career. A few years earlier I was involved in preliminary discussions with Microfocus about potential solutions for removing the outdated and expensive hierarchical Supra database from the retailer's estate. This had gone nowhere as they failed to grasp the importance of Assembler. They came back with an alternative, but after a particularly disastrous meeting that was brought to an abrupt halt, Microfocus were once again out of the picture. The general feeling was that no one could help us to get rid of our problem, and that we would have to continue with our piecemeal approach to conversion that had achieved relatively little in more than ten years.
Away from work I had become a regular contributor to the High Peak Review, and I had fortuitously come across a flamboyant rock and roll performer at a gig in Reading. His name was Mike Sanchez (below), though I had actually gone to see Sleepy LaBeef (as in the picture at the top of this article). I wrote a preview and review of Sleepy's show, having been given his phone number by his agent. To me that was amazing and surreal, and the first of a number of brushes that I had with famous musicians in connection with writing. I saw a couple of Mike Sanchez's shows in Shaw, right around the corner from the warehouse of the fashion retailer, and then in a back street pub in Sheffield where my wife asked him if he would like his biography writing! He, of course, said "yes" and it led to me getting what remains my only publishing contract.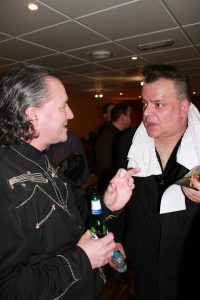 I hadn't given up on the legacy modernisation project, after all, this was the noughties (or whatever bracket 2010 fits in to), and Google was king. I Googled Supra To DB2, and found a Californian company that professed to be able to do this for us. They sent us a questionnaire, we filled it in, and they came back with a quote. It all seemed a bit too simple, and indeed it was. They had a technology partner in the Netherlands, so we decided that we should fly over there and meet our potential saviours. Unfortunately, an Icelandic volcano erupted preventing the American arm of the operation from meeting us, but we met our generous Dutch hosts with conference calls arranged for the following day.
It was all going well, with their analysis tooling proving to be a real eye opener. Their migration tool was simplistic, mechanical, but effective given the right rules. We just had to ensure that the rules were, indeed, correct. The contract negotiations were tortuous, and we eventually threw away the supplier's Ts and Cs and got them to agree to our own. We signed up for a pilot project to prove the concept, but there were already misgivings from certain technicians.
I built the business case, with a lot of help from a number of departments, and it was so compelling that it really was a no-brainer, but there were ever louder rumblings. There were personnel changes by the supplier, missing libraries and copybooks on our part, and the whole thing looked like being derailed before it could get off the ground. What kept us on track was the diligence of the third party and in-house technicians and the excellence of the tooling, particularly the analysis side. The pilot overran, the budget was overspent, and the technical opposition was huge. However, the project had to be done, regardless of the complexities. The answer was due diligence.
Myself and a colleague gathered testimonials from various sources to prove that our Californian supplier and their Dutch technology partner could actually do the job. There was a third angle, the technicians themselves, as we later discovered. This was reassuring, but for a project that would cost us around £2million it was not enough. We would have to travel to North America and meet three clients face to face. The schedule was hectic. Fly out Monday, meet client number 1 in New York on Monday evening. Fly to Milwaukee to meet client number 2 on Tuesday, then back to New York. Fly to Washington DC to meet client number 3 on Wednesday, then back to New York. Finally fly home on Thursday to arrive back in Manchester on Friday.
We arrived safely, though there was a dubious and comical moment as the Crowne Plaza receptionist somewhat awkwardly asked if we were together, and as we met client number 1 in an expensive steak house all seemed to be going according to plan. Client number 2 was out in the frozen Midwest, but we negotiated the snowy roads, and had a very productive meeting in which the client confessed to not knowing who our Californian supplier or their Dutch technology partner were, but as long as we had our three amigos we would be fine. We returned to the airport with plenty of time to spare, so we sat at the bar chatting to a few fellow travellers. The small lounge gradually emptied and we checked the boards for our flight. Cancelled! No announcement, but it had no pilot, so could not go anywhere. They booked us on to a flight the next morning, but with our hectic schedule that was no use. We hatched a plan whereby we would try to get to Washington that evening, and the helpful airline lady managed just that. Hotel? Yes that would all be sorted. All we needed now was a change of clothes. Milwaukee airport is quite small. It has a golf shop, and a strange men's shop, but that's about it. We kitted ourselves out with some Pringle golf socks and a couple of natty polo shirts, but they had no underwear. Fortunately, the strange men's shop had drawers full of underpants, all neatly packaged like a 1940s department store. All sorted, and as we waited for our late flight we decided to exchange packages. The socks were simple enough, but the underpants really were from the 1940s! Huge white Y-fronts that brought great amusement as we tucked them away whilst boarding our flight.
A few hours later we were in DC, with no one else about! The airport was deserted, and we had no idea which hotel we were booked in to. Eventually we found a security guard who got us a phone number. At this point we kind of guessed where we were staying, but it all worked out fine and we were actually ahead of ourselves. Client number 3 confirmed that the Dutch guys were excellent, but they had never heard of the Californians, and with that news we headed back to New York. The following day we met one of our supplier's tech guys for lunch, and we had a couple of hours to kill until our flight. We did a touristy thing and ascended the Empire State Building, but my colleague put his foot down when I suggested a selfie to post on Facebook to let our Manchester workmates know what we were up to.
Back home after a long week, but still the opposition mounted. The team underwent several changes of personnel, particularly project managers, as the senior technicians fought for control. At one point they were sidelined, but that did not last very long. We progressed with the easier side of things, but then the technical solution hit more problems. The project was burning money, but that is the nature of a conversion / migration. All of the effort is up front. Once the methodology is proven the latter stages should run smoothly. We were never allowed to get to the latter stages!
I was in a bar one evening with my three American amigos discussing their time in the UK and what we should do next. Their main concern seemed to be around a football match at Old Trafford for which I had provided tickets. They had two particular questions. Firstly, why can't you take beer to your seat? Secondly, why do they only use one ball? Long term we decided that we should set up our own legacy modernisation company. For now, though, we were stuck. When they were on site the project had buy in, traction, and made good progress. When they were working from the US and the Netherlands the objections surfaced and grew. The principle of being on site at regular intervals has stayed with me ever since. Inevitably the long serving senior technicians were given their head, and it was decided that the project would be completed using the piecemeal approach that had been taken for the past ten years or so. I wanted no part of this slow but certain death, so I decided to set up my own company to do whatever was necessary, focusing on legacy modernisation. The name Legacy IT Consultants Limited seemed appropriate, and thus my new company was born. I left the ranks of the employed in August 2012, with no clients, no employees, and no idea how I would get either. But, I was free to do what I wanted, and take whatever direction I felt was appropriate. As for the fashion retailer and their outdated database, they still have it six years later, though, of course, all of the senior technicians have long since retired!